| Outside Dimensions in inches | Inside Dimensions in inches | Catalogue # |
| --- | --- | --- |
| 4 x 4 x 3 | 3 3/4 x 3 3/4 x 2 3/4 | SHLD-PNL-443 |
| 6 x 6 x 3 | 5 3/4 x 5 3/4 x 2 3/4 | SHLD-PNL-663 |
Suggested Specifications
Cover shall be a single piece open face unit.
Cover shall be mounted by the use of of mounting screws to the panel face or high tack double sided tape.
Cover shall be constructed of heavy duty, clear polycarbonate plastic.
Cover shall be designed so as to allow installation without interruption of service in the device to be protected.
Cover shall form a barrier to weather and dripping liquids when installed.
Cover shall be a Shield Protective Cover manufactured by Crusader Industries Ltd. and shall be catalogue # SHLD-PNL-

-QA.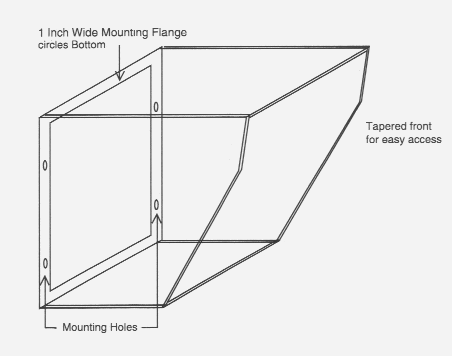 This drawing represents a typical panel open face "quick access" cover. Mounting may be accomplished by inserting bolts thru the pre-drilled holes in the flange, or This cover can be glued into place using the supplied high tack double sided tape.
The dimensions on this unit is 4 inches square. The top depth is 3 inches and the bottom depth is 2 inches.
Special Built Covers are available:
*** When Measuring the device to be protected allow a minimum of 1 inch on all sides. It is advisable to allow a minimum of 2 inches for the top depth and 1 inch for the bottom depth. This is because the front opening is tapered to allow for easier access.
Example:
You wish to protect an emergency shut down button. The button is round with a 1 1/2 inch diameter. It sits at a height of 2 inches above the panel face.
Your minimum requirements would be as follows: Width = 2 3/4 inches
Height = 2 3/4 inches
Top Depth = 4 inches
Bottom Depth = 3 inches
Note
: Special built covers will not be accepted for return.
Options
:
Covers can be colour coded. For example, insert prefix "R-" in the catalogue # (ie. R-SHLD-...) for red covers.